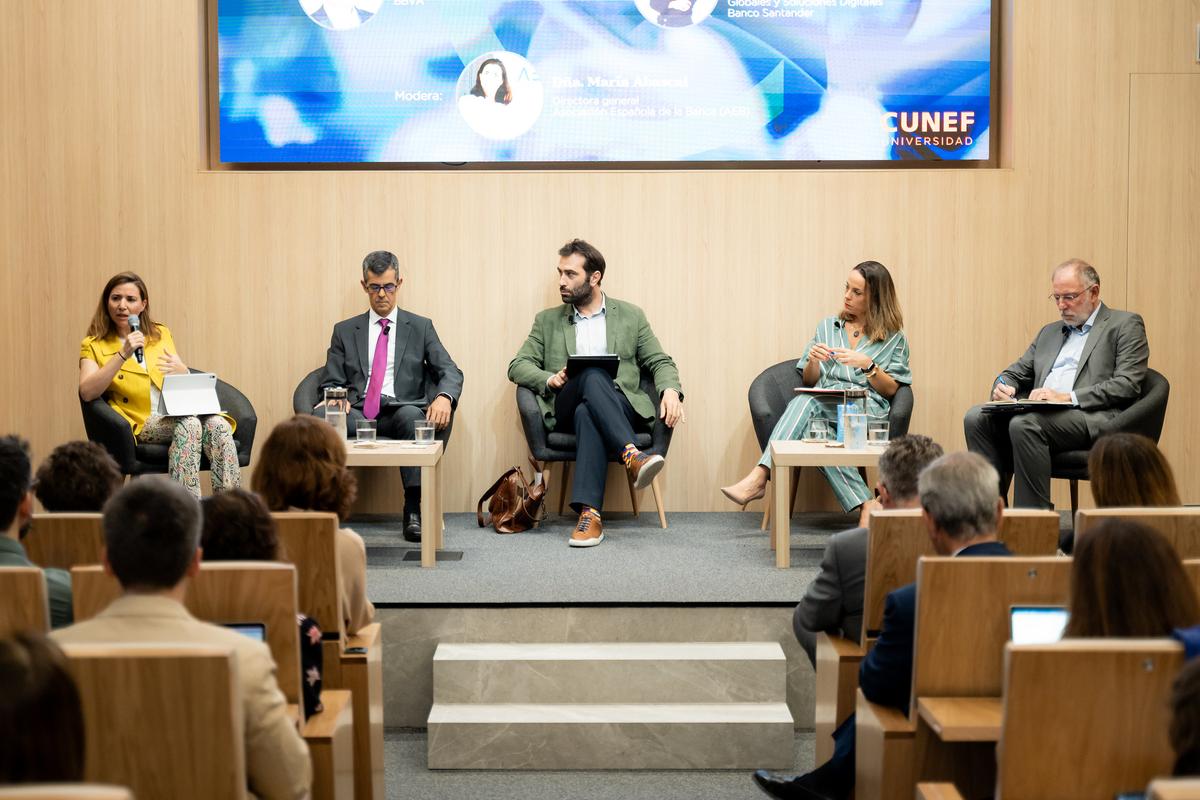 New session of the Banking Lab on the digital Euro
7 July 2023
The Spanish Institute of Banking and Finance (IEBF) held a new session of the Banking Lab entitled "Digital Euro: from Intention to Reality", chaired by María Abascal, Managing Director of the Spanish Banking Association (AEB). Carlos Cuerpo (Secretary General of the Treasury and International Finance), Juan Ayuso (Director General of Operations, Markets and Payment Systems, Banco de España), María Ruiz Andújar (Global Head of Strategy and Products - Global Cards & Digital Solutions Division, Banco Santander) and Santiago Fernández de Lis (Head of Regulation, BBVA) participated as speakers.
The speakers highlighted several issues that must be considered when determining the legal framework proposed by the European Commission at the end of June:
The main challenges are privacy, reliability and user-friendliness.
The decision on whether to issue the digital euro has not yet been made, nor will it be made in the short to medium term.
The proposal should minimise potential risks to financial stability.
Legislators should focus on the use cases that add value to consumers and are not currently covered, such as cross-border payments.
The proposal should leverage existing payment infrastructures to achieve greater efficiency.
It is important to convey the narrative properly, to ensure that citizens fully understand the advantages and added value of the digital euro compared to existing options.
The Banking Lab session was held in the Main Lecture Hall of the Almansa Campus of CUNEF Universidad, hosted by Manuel Balmaseda, director of IEBF,  and included the participation of Ángel Nigorra, CEO of Bizum.