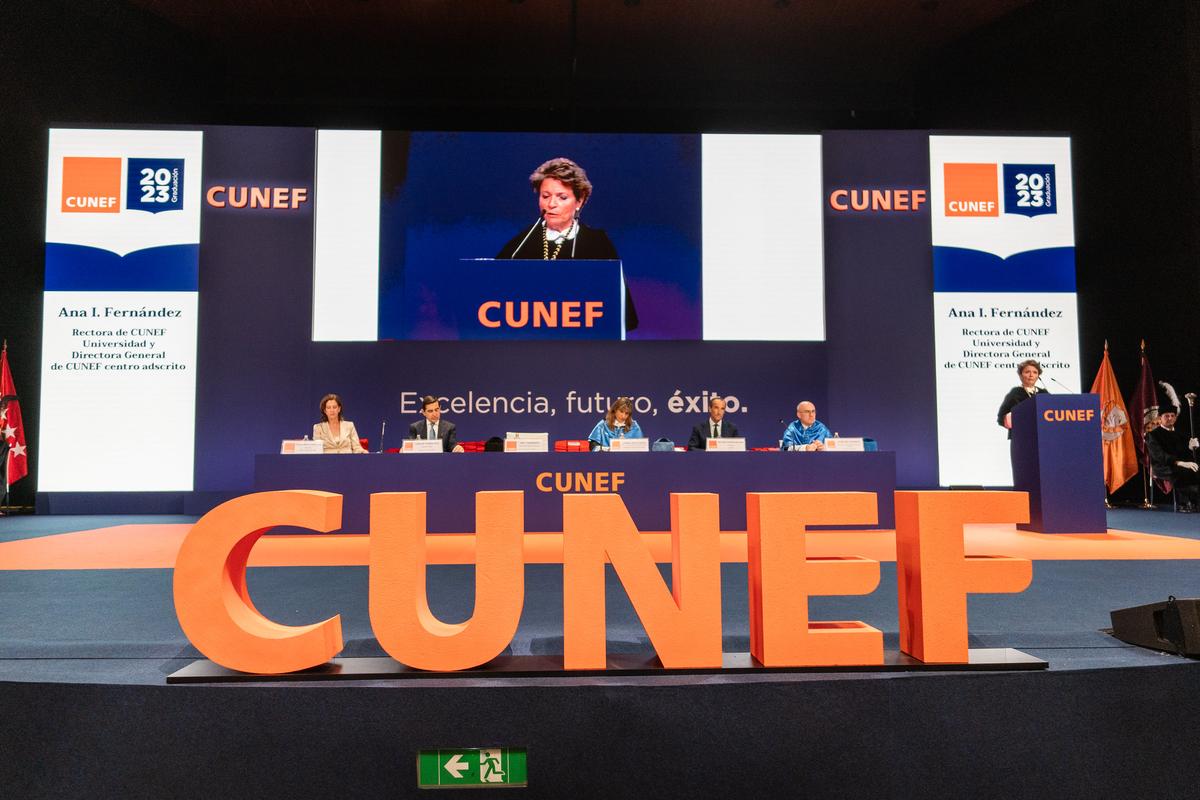 CUNEF holds a Graduation Ceremony to celebrate the Class of 2023
17 July 2023
The students of the Class of 2023, along with their family and friends, attended the Graduation Ceremony held by CUNEF at the Madrid Marriott Auditorium Hotel & Conference Center on 12 July. The ceremony brought together 316 undergraduate students form CUNEF Affiliated Centre and 190 graduate students from CUNEF Universidad to celebrate, filled with anticipation and enthusiasm, the chapter that they have successfully closed and the new challenges they are about to take on.
This year's commencement speech was given by Carlos Torres Vila, President of BBVA and sponsor of the Class of 2023, who wished the graduates a very successful future. In this regard, he stated that success is more a question of the path we choose and the way we do things than the results and outcomes we expect. Likewise, the sponsor emphasised some relevant qualities and principles that CUNEF graduates should hold dear, stressing the importance of being genuine and straightforward, of doing the right thing, and of being transparent with and loyal to the institutions where they work.
CUNEF Universidad wishes to thank Carlos Torres Vila for his words, and for being a role model and an inspiration for our graduates and students. We would also like to express our appreciation for their participation in the ceremony to Carmen Nieto Zayas, Vice-Rector for Centres and Departments at the UCM, Alejandra Kindelán, Chair of the Spanish Banking Association (AEB) and the AEB Foundation, Antonio Rodríguez-Pina, Chairman of CUNEF S.L., and Nicolás Herrera Williams and David Postigo Sáenz, the students with the best academic records in the Class of 2023.