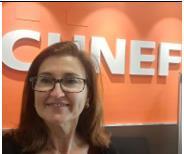 López López, María Victoria
Quantitative Methods
PhD: Universidad Politécnica de Madrid
Office E6.2
BIO
Director of the School of Engineering at CUNEF Universidad, Professor López was accredited as an Associate Professor by the Spanish accreditation system, ANECA, in 2016. She holds a PhD in Computational Mathematics and Artificial Intelligence, and she has been a Professor in the Quantitative Methods Department at CUNEF since 2020. In recent years, she has combined research stays at the University of Amsterdam with her work in the Department of Computer Architecture at Universidad Complutense de Madrid.
She is a member of the scientific committee of the European Association for Data Science (EuADS) and the Spanish Association for Artificial Intelligence (AEPIA).  Her main research areas are Computational Mathematics and Artificial Intelligence.
She has two six-year research periods recognized by ANECA, and has supervised three PhD theses, in addition to numerous Master Theses.

Research IDs:

ORCID: 0000-0001-6332-5572
Scopus ID: https://www.scopus.com/authid/detail.uri?authorId=24366484600